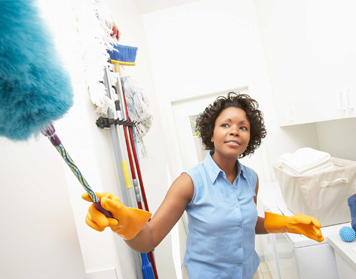 Best Maid Services in Hartford, CT
General routine housekeeping can become challenging to get done daily, especially while working and schooling or worse – working and schooling from home.  With hectic schedules and other work and health priorities, cleaning often is the first thing to take a step back. Hire a maid. As a part of their assigned duties, maids will help you to maintain a clean home. Hiring a maid will give you more time to spend with family and friends and free you from household chores.
As a company that provides the highest-quality maid services in Hartford, CT, we understand the importance our clients place upon maintaining an absolutely clean home. That is why our maids are trained, experienced and certain to ensure that your home is properly cleaned from corner to corner.
How Our Maid Services Different?
Attitude:
Ours:  We do not consider maid service as 'unskilled labor'.  Some of our maids have decades of experience.  We pay our maids above the current competitive trade wage which means less in terms of a company profit, but far more gained in morale, spirit and attitude on the job.  We have maids who are far less likely to steal; and far more likely to do their best, because they want to keep their jobs with a company that rewards their employees.
Theirs: 
Our maids show up ready to work.  We provide our maids with all of the cleaning agents and tools needed for the job. These cleaning agents help the maids in removing a wide variety of staining and debris. Whether it is a kitchen, bathroom, bedroom, living areas, etc., our maids ensure that all are sparkling clean. 
Providing High-Quality Work with Trusted Maids
Getting your house cleaned is great, but anyone not family with access to your home is a security risk. Security is a top priority.  We understand the concerns of our customers regarding the security of their valuables and homes.  We keep detailed personnel records and conduct proper background checks. Each maid is required to go through our complete training to improve skills and ensure our high standards are maintained.
Why Choose Our Maid Services?
We believe in complete customer satisfaction and that is why we make sure that our maids are maintaining high standards of cleaning your property. We are also very cost-effective and offer customized services to our customers. If you are looking for assistance in getting your house cleaned, please contact us.