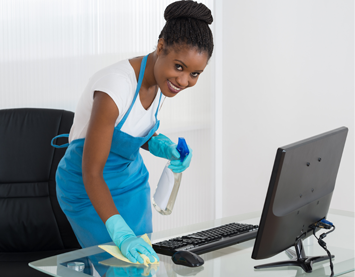 Small Business Cleaning Service
After our walkthrough, our team strategizes the type of cleaning desired and the required kind for your structure and infrastructure. Before we even arrive at your site, our team discusses and rehearses the implementation of your cleaning plan. Proper cleaning preserves your investment in your office space. Hence, it is necessary that you maintain your office with cleaning and disinfecting.Itis more necessary than ever before to sanitize and disinfect your office for the safety of your workers, yourself, and your community.
Here are various ways in which you can keep your office safe from viruses and germs:
Wiping Surfaces in a Single Direction
When you are cleaning surfaces, be sure to wipe in one direction. Going back and forth restores germs that were already removed. This is especially true in the case of tabletops, doorknobs, etc.
Keep Designated Cloths for Different Areas
You would not want to use the cloth that is being used to clean the restroom to clean your kitchen; would you? Using the same cloth for cleaning the kitchen and restroom can be infectious. Hence, ensure that you use separate cloths for each area. To avoid any kind of confusion, you can use cloths of different colors or textures so that they do not get mixed-up.
Sanitize Most Commonly Used Desk Accessory Items
Many workers will pass a stapler or a tape dispenser to a needy coworker. Workers share their office supplies with one another. This can transfer germs from one person to the next. Hence, it is better to sanitize commonly handled office supplies before and after use. Ensure that all computers, laptops, keyboards, etc. are also sanitized. This will help in reducing the transfer of germs or viruses.
Use Disinfectants to Clean your Office Floors
When your janitor is cleaning your office floors, ensure that high-quality disinfectant solutions are being used to clean the floors. This will ensure that your office floor is not only clean, but free from germs.
Clean Doorknobs and Stair-railsat Regular Intervals
People who are visiting your office need to open or close doors and even use the stairs. They touch the knobs and railings while entering and exiting the premises. Hence, you should ensure that you are cleaning and sanitizing doorknobs and stairway railings to avoid the spread of germs.
Provide Sanitizers to Staff
When your workers join your office, make sure they are provided with sanitizers that they can use to clean their hands. This will ensure that your workers are safe and sanitized even in your office.