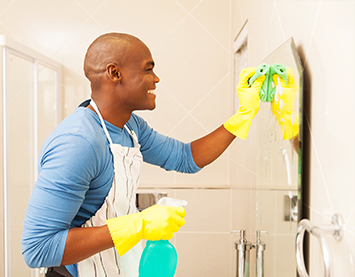 Interior Building Cleaning Service
When you own a building, it is important to maintain it. No one likes to enter a building that is dirty or in dire need of maintenance. The chances of an unmaintained building getting damaged and falling off are high. Hence, you need to ensure that it is cleaned regularly. However, this is not possible when you hire a janitor to do so, as there are areas where the janitors cannot reach. This where you need to contact a professional building cleaning service company. We offer the best building cleaning services that can be customized based upon the customer's requirements.
Services We Offer to our Customers
We provide professional cleaning services to various industries including residential and commercial buildings. We offer daily, weekly, and monthly cleaning services to our customers. The cleaning tools used are of the latest technology and our cleaning agents do not harm surfaces or humans.
Our services include:
Cleaning of restrooms and bathrooms.
Scrubbing and polishing the floors.
Vacuuming of carpets.
Cleaning desks, chairs, doors, etc.
Cleaning stairway railings.
Polishing doorknobs, push handles, and other metal surfaces.
Cleaning of shutters and blinds.
The clearing of cobwebs.
Disinfecting of the whole building.
Tips for Cleaning a Building
Maintaining a clean building is as important as getting it cleaned.
Here are some tips for you to ensure that your building is clean even after we have done our job:
Make sure that you clean your floor regularly. This helps in avoiding any damage or scratches to the floor.
Always keep a doormat in front of the entrance, so that people entering your premises can wipe off their dirty shoes. This helps in reducing the amount of sand entering the premises.
Do not allow spitting on the floors or walls. However, if anyone does, then make sure to get it cleaned immediately. Saliva is a bodily fluid and highly contagious. This also helps in avoiding getting dried stains off walls or floors.
Use a ladder or a long mop to remove any cobwebs found in neglected corners.
Hardened chewing gum and other sticky substances can either be scratched off or you can apply ice cubes to harden the substance and make it easier to remove.
You can use warm water and a clean cloth to dust your handrails. You can also use all-purpose cleaning agents to clean the handrails.
To remove the mold, mildew and unpleasant smells from your bathrooms or restrooms by using disinfectants while cleaning it daily.
There are many other ways you can keep your building clean. However, we can help you maintain your building by providing an interior building cleaning service.