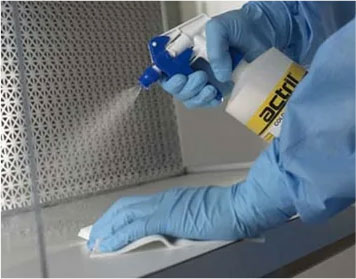 Disinfectant and Sanitizing Cleaning Services Hartford, CT
When it comes to maintaining our homes and offices, we all want to make sure that both are free from germs and bacteria. We use all kinds of cleaning agents and tools without knowing that it is enough to make our environments germ-free.  Our homes and workspaces need to be sanitized and disinfected. The germs and bacteria which remain hidden after cleaning can still have a serious impact upon human and pet health.  We have an important duty to protect those dependent upon us from being infected by germs and bacteria.
The use of professional disinfectants and sanitizing cleaning agents by a reputable service provider can make sanitizing and disinfecting affordable and easily accessible in the greater Hartford, CT area.
What is our Procedure for Cleaning Services?
We start our disinfectant and sanitizing cleaning process with a thorough evaluation of the whole property. This is to ensure that OSHA hazard and safety standards are being followed. We then make sure that all our workers are wearing protective safety gear. Before our team begins sanitization and disinfection services, they make sure that all areas are hand-cleaned. This further increases the chances of eliminating germs and bacteria from surfaces by 99%.
Following the cleaning service, surfaces are sprayed with disinfectant and sanitized with high-grade EPA registered disinfectants. Our job is still not complete until the entire property is tested for sanitization.  Any surface residue is tested to ensure that no microbes are detected which can be a health risk.
Why should you choose us?
Apart from making efforts to keeping yourself healthy, you also need to keep your environment germ-free. We understand the benefits in staying healthy. We provide effective sanitization and disinfection services to our customers. With our high standards in sanitizing services, ensure that your property is cleaned properly with a reduced risk of infection through contact with germs and bacteria.
We are the most affordable cleaning service provider in Hartford, CT. We comply with the industrial standards and our cleaning agents which are used for disinfecting and sanitizing are EPA approved. No matter how big or small your property, we can make sure it is cleaned to perfection. Contact us now to get your quotes.